Health Business
Making "Health Starts
from the Gut" More Accessible
The importance of the intestinal environment has become so widely recognized that the term "intestinal activity" has even been coined.
In addition, after the coronary overload, people are more interested than ever in the role of the gut environment in improving their own immunity.
Our fermented foods containing viable bacteria, which are safe and reliable in the manufacturing process, are health foods that can be taken by children and the elderly with confidence.
We sincerely hope that our products will contribute to the health of as many people as possible.
The Importance of Maintaining a Healthy Intestinal Environment
The human intestine is inhabited by 1000 species and 1000 trillion microorganisms. These intestinal bacteria are composed of 20% good bacteria, 10% bad bacteria, and 70% opportunistic bacteria, which are neither of the two. The opportunistic bacteria make up a large percentage of the intestinal bacteria and are usually quiet, but when the body is weak due to fatigue or stress, they work badly in the intestines. In order to maintain and improve health, it is necessary to maintain a high level of good bacteria.

By increasing the number of good bacteria and leading the intestinal environment to a normal state, not only can bowel movements such as constipation and diarrhea be improved, but also positive effects on organs such as the liver and kidneys can be expected due to the blood-purifying effect of activating the digestion and absorption functions of the intestines. It is said that by strengthening the fundamental constitution of the body, autoimmunity can be improved and prevention of infectious diseases and allergies can be expected.

As a result of joint research with universities and research institutes, our fermented foods containing viable bacteria have been proven to have significant differences in the improvement of intestinal environment, suppression of H. pylori in the stomach, suppression of metabolic syndrome, and suppression of influenza virus growth.
More effective support for the activities of good bacteria
Our fermented food containing viable bacteria is composed of 45 types of viable bacteria, and we use naturally occurring viable bacteria rather than artificially created multiple bacteria. They are fermented, cultivated, and matured with our original technology established through years of research, and reach the intestines alive to lead the intestinal environment to a good state.

Furthermore, it is rich in naturally occurring enzymes, oligosaccharides (prebiotics), and amino acids that are extracted by each bacteria during fermentation and maturation.
How MAX-PROBIO products work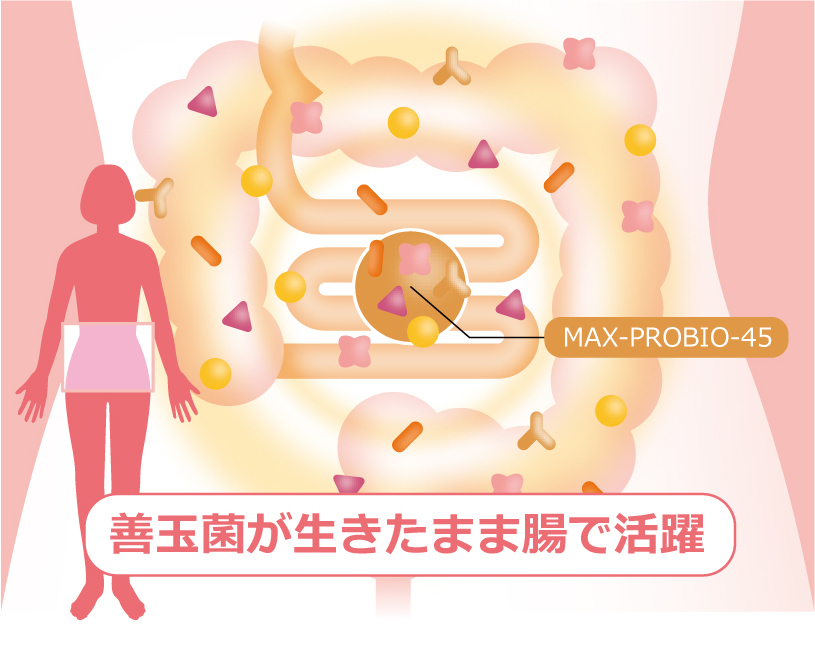 Good bacteria live
and active in the intestines 45 active strains of bacteria
It is presumed that it is stabilised by being trapped in the rice bran.
one and only reason.